If it is raining or snowing alway bring dry shoes. Wet or damp shoes are not allowed on the dance floor
West Coast Swing Practice
March 6th, 7 to 9:30 PM
Argentine Tango Practica
Feb 21st & 28th, 7:30 to 9:9:30 PM

Providing a smoke and alcohol-free environment in which to learn and practice American Social Style ballroom dancing, as well as the International and competitive pro-am styles. Our programs are structured to provide opportunities to study ballroom dancing, to meet other dancers, and to develop social dance skills in a safe, friendly setting.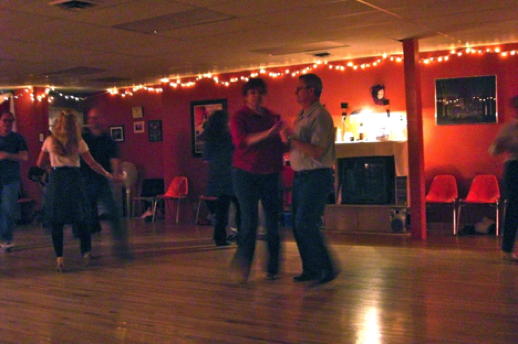 We have weekly practice parties on Sundays.
We have many levels of classes.
We have workshops taught by local and Guest coaches.
We have showcase in the fall to showcase our students that wish to participate.
Students that are interested in competitions have an opportunity to do so.
A Suggestion,
    If you are a "new student" considering taking a class let me recommend that you start with an "Introduction to a Waltz or Foxtrot" class. These classes will introduce you to the basic movements and structures you will use in many other dances.
    The basic Waltz and Foxtrot will teach you a little bit about music and how to find the beat. You will learn about lead and follow techniques and how to communicate on the dance floor.
    The patterns are relatively easy to learn and you can actually be dancing to the music within a couple hours.
    The next class I would take would be, "Intro to Swing." In this class we concentrate only on one dance and move a little faster.
    Last but certainly not least, I would suggest the, "Intro to Latin." These dances are a little more complicated so the skills you learned in the ballroom class in the swing class will prepare you for them.
    This is merely a suggestion so feel free to take the intro class that suits your interest.
Sincerely Ron Shepard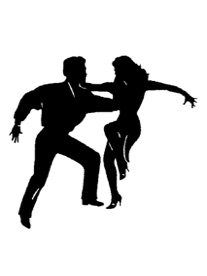 A Note To New Students.....
Classes for January Start
Costs for classes and and private coaching sessions.
Sometimes I write stuff about dancing and occasionally other things.
For questions and to sign up for classes email me at.
"ronshepard@mac.com"
Omaha WCS Club Membership meeting
Important
Classes and parties are now canceled until furthor notice. I hope to resume as soon as possible.
Please consider Private Lessons
Thank you